Data protection is without a doubt one of the main tasks of IT
For a long time, this was a good argument for using only basic IT protection mechanisms: "We don't have any data that would be valuable to anyone else, so there is no reason for someone to attack us". And so it was. But then the Ransomware appeared. It exploits the fact that our data is valuable to ourselves. And since then, we have all become targets. And now we have to take IT protection much more seriously, and given that attacks can come from many sides and in many ways and forms – protection must act accordingly.
Thus, it is necessary to:
Defining the security policy of the digital environment in the company (endpoint protection – AV, NGAV – EDR, perimeter protection – firewall, network segmentation, regular patching, anti-spam, backup, resource access policy – AD, authentication policy, MFA, SIEM / SOC, Dark web monitoring, encryption, education).

Educating computer users about the forms and ways in which such attacks reach their computers, as well as how to recognise and avoid them.

Periodic risk assessment.

Application of effective anti-ransomware / AV software tools on all devices that have Internet access.

Defining a company data backup policy.

Regular and professional integration of quality backup and snapshot solutions.

Regular backup check.

Application of CDP (Continuous Data Protection) technology if necessary to provide the possibility of restoring all data up until the moment of the attack.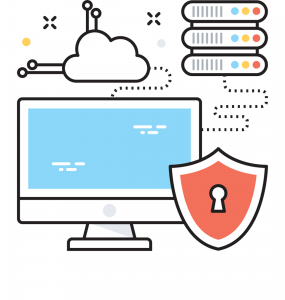 A successful IT security system must be proactive and multi-layered, it must be constantly checked and upgraded, and its improvement is a process that never ends. If you do not have sufficient IT staff for all the mentioned activities, you can entrust this process to us and focus on your business without worries.