For years, Fortinet has been a world leader in comprehensive integrated solutions for efficient IT security and protection of wired and wireless networks. It is the only manufacturer that bases its solutions on specially designed hardware, developed for the needs of fast and efficient application of multilayer protection mechanisms. This fact is the basis for Fortinet's unique philosophy – one device/box for all IT security needs, which also allows for ease of planning and deployment, and ultimately better overall economy impact.
Fortinet Security Fabric is without a doubt the most performing integrated platform for complete IT protection and successful fight against all types of Internet threats. Throughout the family of FortiGate security devices, Fortinet supports the widest range of functionalities: IPS/IDS, wireless controller, e-mail filtering, web filtering, application control, deep packet inspection, DLP, multi-factor authentication, SD-WAN, sandbox, DNS protection, and all that is needed to activate the protection mechanisms is the appropriate FortiGuard license.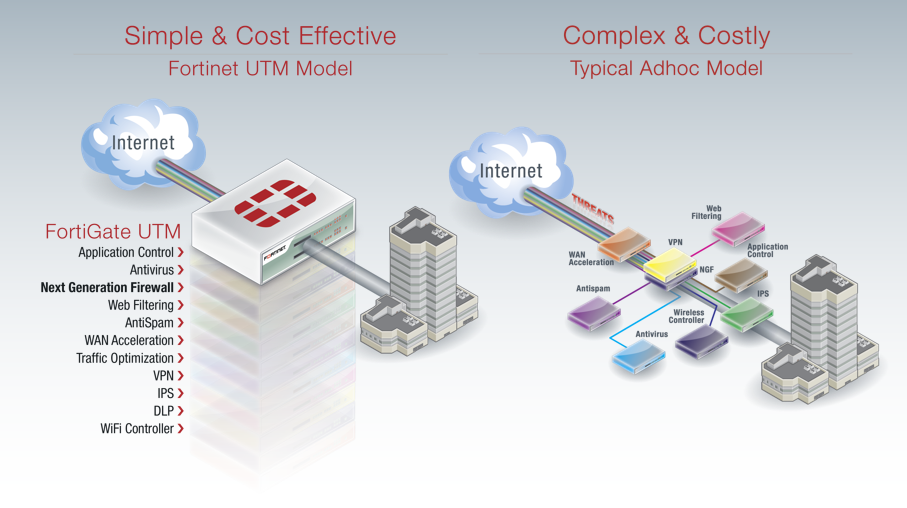 By applying the latest IT protection technologies, based on artificial intelligence and machine learning, Fortinet provides users with effective protection against known and unknown threats. Today, internet threats are increasingly tailored and targeted at a specific user, and the moment to carry out an attack is usually chosen so that the effect of surprise is maximized. In such circumstances, for the protection system to be effective, it must be complete, intelligent and multi-layered, the monitoring of events must be continuous, it must be ready for quick reactions, and work persistently on strengthening the protective barriers at all times.
Datatek has proven on many occasions that it is the most experienced Fortinet partner in Serbia with several dozen successful implementations in the period from 2013 until today. We worked on projects of all sizes: from smaller environments and only Next-Generation FireWalls to large and sparse user systems with many security services, Wi-Fi network securing and training of the user's IT team. In addition, our technical team is continuously educated and certified in accordance with the requirements and recommendations of Fortinet itself.
If you are interested in how FortiNet solutions can be applied to your system, schedule a free consultation!